Lead2 Real Estate Group 200 Post Race Report
August 29, 2015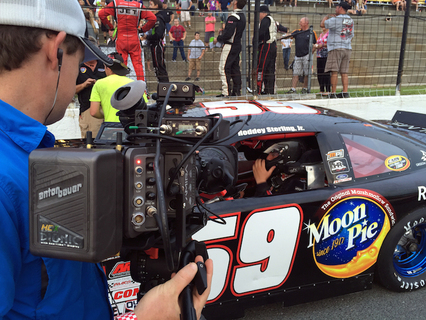 CONCORD, No. Carolina – Determined to gain as much track time as possible, Roddey Sterling, Jr. recovered from an early-race crash and drove the MoonPie Ford to a 19th place finish in the 100-lap CARS Tour Late Model Stock Car "Lead2 Real Estate Group 200" at Concord Speedway on Saturday, August 29.
Sterling qualified the MoonPie Ford in the 16th position among the field of 24, and diced amid the middle draft in the early going around the half-mile, D-shaped paved oval. As lap 37 went up on the scoreboard, Sterling was racing in a tight pack as the field swung down the swift, curving "dog leg" corner. Entering the final set of turns, several cars came together -- collecting the MoonPie Ford and sending Sterling to pit road for new right side tires and suspension repairs.
As the crew assessed the right-front damage, the green came back out on the field – setting off a flurry of activity as the Grissom Motorsports team went to work on the injured machine. As a quick 20-laps clicked off, the team scrambled to replace a broken hyme joint, and sent the rookie driver back into competition with the hope of gaining a few positions on the race track.
Sterling completed the remaining circuits with no further trips to pit lane… laying down some respectable lap times and avoiding several multi-car wrecks to finish in the top 20.
Back to top