Roddey Finishes 13th At Orange County Speedway
April 18, 2015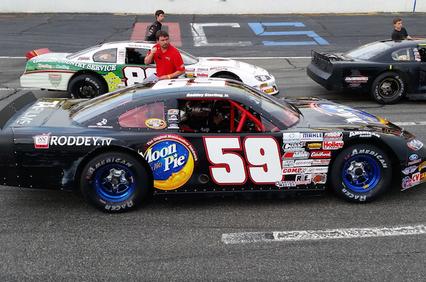 ROUGEMONT, No. Carolina -- Roddey Sterling, Jr. qualified 26th out of the 30 car field and drove the # 59 MoonPie Ford to a 13th place finish in the 150-lap CARS Tour Late Model Stock Car clash on Saturday, April 18.
Sterling avoided several multi car wrecks and recovered from a late-race flat tire, forcing Roddey to pit road, and sparking the Grissom Motorsports crew into action. Following a quick tire change under a one-lap caution, Roddey was back on track as the green flag waved for the restart.
Sterling got down to business in the final 20 laps of the race, running 3-wide as he dug in and knocked off positions to cross the checked flag dicing for 12th on the lead lap. Roddey finished the night by executing his own version of a 'burn out' as his brakes failed at the line… sending him dangerously close to the turn one wall. Undamaged, Roddey rolled down the banking and onto pit road.
"We had no brakes," said Roddey exiting his car. "I know some of those guys are mad at me now, because I kept on running into them, but I couldn't help it!"
"Steve and the crew got me this position tonight. If they weren't prepared, I would have lost a lap on pit road. At this place, no way are you going to get lap back."
"I love OCS. It's really hard to drive, but as the night went on, I felt the car come in and found some new lanes in the corners. It's really wide and you can hunt around for
Back to top