Fresh off Sterling Jr.'s first top-10 finish at Motor Mile Speedway
August 1, 2015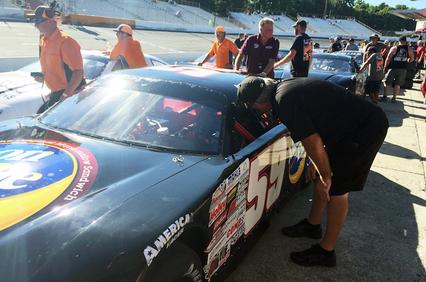 Saturday, April 18 – ROUGEMONT, No. Carolina – After tagging the wall in CARS Pro Tour Late Model qualifying at Orange County Speedway on Saturday, August 8, Roddey Sterling, Jr. kept his chin up as the Charlotte, North Carolina native received the crowd during driver introductions. Fresh off Sterling Jr.'s first top-10 finish at Motor Mile Speedway, Roddey had hoped for a repeat performance at Orange County Speedway – his 25th career start since his first Stock Car Race just one year ago.
As Sterling lined up to receive the crowd for pre-race ceremonies, a young fan approached and exclaimed, "You go, Roddey!" "Thanks," said Sterling. "But I don't know if the MoonPie Ford is going to make it… I'm going to try, though. We had a great car. You all are great. Thank you so much." "It's kinda over before it starts, right," said the youngster. "But for someone who's only raced a year, you're still pretty darn good… and I'm still your fan!"
Shortly after the green dropped on the 125-lap Pro Late Model "Summertime 250", the #59 MoonPie Ford chattered through the corners, forcing Roddey to make a tough but right decision to bring the MoonPie Ford into the garage for the night.
"I have to take responsibility for my mistakes," said the obviously disappointed Sterling. "While I understand I am still very much a rookie driver, it's a mistake I shouldn't have made. It is my mistake I own it and the good news is it didn't involve anyone else but me. For certain it isn't about how you handle the high points we all are striving for, but rather how you handle your worst (qualifying) lap or race. You know, what is the take away? What did we learn from it all? That's really important for me at my stage of the game. Equally as important, we have plenty of other drivers out here that qualified well and are looking forward to a good night. Not to mention a large of group of fans that came here to have a good time. So … on to the next one."
Back to top