Roddey Sterling, Jr. brought the MoonPie Ford home 15th
September 5, 2015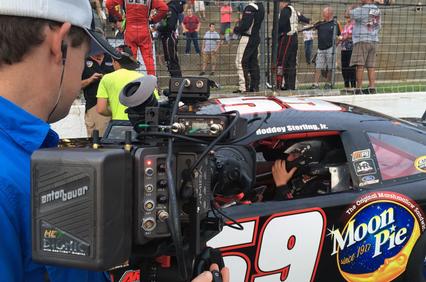 NEWTON, No. Carolina – September 5, 2015 -- Roddey Sterling, Jr. turned in a season-high qualifying effort and avoided a mid-race crash to bring the MoonPie Ford home 15th in the 150-lap NASCAR Whelen All American Late Model Stock Car "Bobby Isaac Memorial 150" on Hickory Speedway's historic half-mile paved oval.
Sterling started the MoonPie Ford 11th in the field of 21 Late Model Stock cars and was dicing for the tenth position when several machines collided on lap 65… bringing out a caution, and forcing the rookie driver to slow rapidly and change lanes to avoid.
As the cars sorted out for the restart, Sterling lined up in the 15th position, and maintained a good battle for the 14th spot through to the checkers.
"The MoonPie Ford was fast," said Sterling. "I had to really get on the brakes to avoid the wreck, and a couple of guys got by me. We didn't have enough time to get back up front."
Fresh off of a career-first top-5 finish at Myrtle Beach Speedway (Sept. 3) in what was his 32nd career stock car start, Sterling's momentum carried into NASCAR qualifying Saturday at Hickory, where he blazed off a lap just shy of the pole speed by 2/100 of a second, landing him in the middle of a highly-competitive, late-summer field of drivers… all of them hungry to put a good mark on the stat sheet before 2015 is a memory.
"Roddey drove his heart out tonight," said car owner Steve Grissom. "That was probably the hardest I've ever seen him race. There were a lot of good cars here."
"We saw a lot of progress out of Roddey at Tri-County," continued Grissom. "Then Motor Mile, Concord, Myrtle Beach this past week, and now tonight at Hickory. This was -- bar none -- his best race yet."
Sterling and the Grissom Motorsports-prepared MoonPie Ford will head to Myrtle Beach Speedway's super-fast half-mile paved oval on Saturday, September 19 for the CARS Tour Late Model Stock Car "Bakerdist.com 200".
Back to top