Shocks of the Race: Motor Mile
July 15, 2015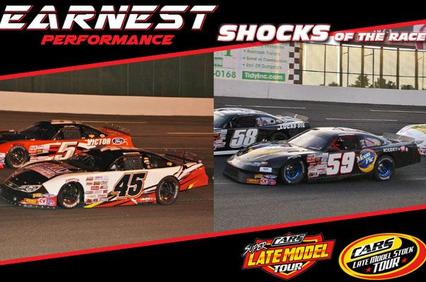 SHOCK OF THE RACE: Each event, we'll award the Earnest Performance Shock of the Race to a recipient from the SLM and LMSC Tours. Who or what would YOU have voted as Shock of the Race from Motor Mile? Here's who we picked for the award following the Food Country USA 250 presented by Heritage Truck Centers.
#45 Joey "Mooch" Mucciacciaro - Super Late Model
For a kid who climbed into a super late model for the first time in February, Joey Mooch has become a fast learner. A graduate of US Legends cars, he found comfort earlier in his career when jumping to late model stock cars during the UARA-STARS' final two seasons. This past weekend, the youngster captured his best career CARS Tour finish in a super late model by clawing his way into the top five by the end of the event after starting in 25th. Not only did Mooch pass twenty cars during the 125-lap feature, but his performance also earned him the Cribs Creek Outfitters Hard Charger Award. The second-highest finishing LFR car made a statement once again for the relatively new chassis manufacturer, proving their chassis are one of the hottest tickets in super late model racing no matter who the pilot may be.

#59 Roddey Sterling - Late Model Stock
Most drivers with 23 races in their entire racing career wouldn't choose to race against the toughest competition in their discipline, but Roddey Sterling is no ordinary driver. The driver of the MoonPie Ford has spent the last two seasons getting up to speed in late model stock car racing and has been working closely with Steve and Kyle Grissom in order to accelerate that learning curve. Like any raw rookie, Sterling still experiences battles and hardships, but the promise of a budding talent has quietly begun to expand over the last few events. At Tri-County, Sterling was taken out in an accident late, and at Motor Mile it appeared he would meet a similar fate when competitors crashed in front of him and drew him into it on lap 11. Undamaged, Sterling charged from the back of the field to capture his first career top ten finish in the CARS Late Model Stock Tour in only his 24th career race of any kind.

Congratulations to our Motor Mile Shock of the Race winners and remember, when you need shocking shocks on-track, call Brannon Earnest and Earnest Performance, a JRi Shocks dealer.
Back to top